This sponsored post contains affiliate links.
DreamWorks Animation and Pearl Studio's co- production
ABOMINABLE
is a magical action-packed adventure for the whole family.
Yi, Everest and the gang come home just in time for the holidays on Digital December 3, 2019 and on 4K Ultra HD, Blu-Ray™, DVD and On Demand December 17, 2019 from Universal Pictures Home Entertainment.
Abominable is a fresh take on Yeti mythology.
Everest is a magical creature that brings a lot of laughs and cuteness to the screen. My family really enjoyed the adventure Yi and her friends go on to bring Everest back to his home and his family. It was refreshing to see a diverse cast and learn a bit more about Chinese culture. The visuals are stunning; I can only imagine the film in 3D and feeling like you really are in the Himalayas!
Warning: if you have a child who has lost a parent, this may be very emotional for them. The film deals with some pretty heavy themes: loss, the grieving process, and finding hope. But it also is about friendship and family bonds.
We also enjoyed all of the bonus features, especially where they teach you how to draw.
Abominable
is a magical journey the whole family can enjoy together!
From the studio that brought you
How to Train Your Dragon
, this heartwarming and humorous story follows teenage Yi (Bennet) as she encounters a young Yeti on the roof of her apartment building in China, she and her mischievous friends, Jin (Trainor) and Peng (Tsai), name him "Everest" and embark on an epic quest to reunite the magical creature with his family at the highest point on Earth. But the trio of friends will have to stay one-step ahead of Burnish (Izzard), a wealthy man intent on capturing a Yeti, and zoologist Dr. Zara (Paulson) to help Everest get home.
This magical journey is brought to life with the voice talents of
Chloe Bennet
("Marvel's Agents of S.H.I.E.L.D"), Golden Globe
®
and Emmy
®
Award winner
Sarah Paulson
("American Horror Story"),
Eddie Izzard
(
Cars 2
),
Tenzing Norgay Trainor
("Liv and Maddie"),
Albert Tsai
("Fresh Off the Boat"),
Tsai Chin
(
The Joy Luck Club
) and
Michelle Wong
("Scandal"). It is written and directed by
Jill Culton
(
Open Season
,
Toy Story 2
,
Monsters, Inc.
) and co-directed by
Todd Wilderman
(
Open Season 2
). The film is produced by
Suzanne Buirgy
and
Peilin Chou.
"
ABOMINABLE
is a movie for all ages with laughter and life lessons and a little bit of wonder thrown in" (Allison Rose, Flick Direct).
Clips
Download Abominable Movie Night Activities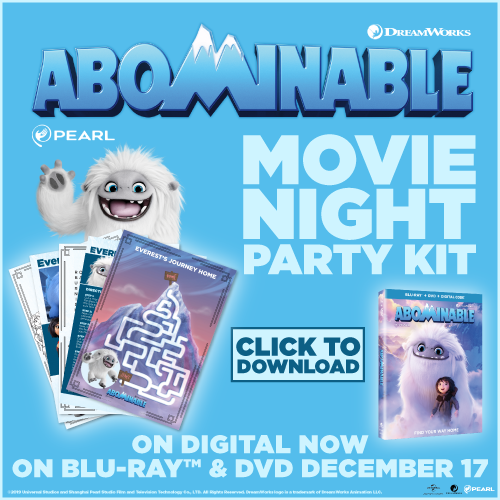 Smilebox.com
has a new line of animated Abominable Christmas cards, invitations, and birthday cards. Your lil' Yetis will be "snowed" away by the animated customizable cards featuring Yeti and friends from Abominable. Abominable plus Smilebox offers endless possibilities – from a Very Yeti Christmas to Mystical Snowy Birthdays to Abominable Weddings or even a Yeti Ice Cream Social. Care to channel your own inner Yeti?
Here is a special holiday greeting I created just for my readers:
Follow
Abominable
#AbominableMovie
Make sure to visit our
2019 Holiday Gift Guide
for other great gift ideas and giveaways!