I received two books from Put Me in the Story in exchange for sharing this Summer Reading list and giveaway. All opinions are mine.
School is out and we are in summer fun mode! Along with all of the outdoor activities, swimming, and camp, we are also working on our Summer Reading to prevent the dreaded summer learning loss. AK grew so much over kindergarten this year, and we want her to be well prepared for first grade.
One of our favorite companies, Put Me in the Story, wants to help bring a healthy dose of learning to your family's summer routine!
Put Me In The Story creates personalized books starring your child in beloved books and alongside their favorite characters to help them stay engaged in the story and foster a love of reading!
Check out some of Put Me In The Story's favorite books to add to your child's Summer Reading List below:
Pete the Cat is having one of those days—the kind where nothing is going his way. But when Grumpy Toad lends Pete a pair of cool, blue, magic sunglasses, that gloomy, dreary day turns itself around!
This personalized book about learning to see the world in a whole new way features your child's name and photo along with an encouraging dedication message from you. Your child plays a special part in the story—they are the one to let Grumpy Toad borrow the magic sunglasses in the first place!
As Pete the Cat travels through town, he meets friends that could use a little bit of magic. A hungry squirrel, a tipped-over turtle, and a lonely alligator all get a boost of positive vibes from the magic sunglasses. But what happens when those magic sunglasses break?
Teach your child to find the good in every day with the help of this rockin' story. Any day can go from gloomy to groovy—all it takes is a little magic from within!
Now your little girl can dream bigger and reach higher than ever before with her very own personalized edition of Isabella: Girl in Charge!
Your child steps into the story as a spunky, purple-haired girl on a journey to the White House. Along the way, she learns about some of the amazing women who came before her. These doers, dreamers, lawmakers, and trailblazers helped create the world we live in today—a world where your little girl can be anything that she wants!
Put your girl in charge with her very own copy of Isabella: Girl in Charge. Include her name and photo along with a special message from you. And at the end of the book, she'll be surprised to see her face appear next to some of the nation's greatest leaders! How's that for big dreams?!
Take a trip back in time with this personalized guide through the prehistoric world! With full-color illustrations, quick facts, and pronunciation guides, National Geographic Little Kids Book of Dinosaurs has plenty of information to captivate your paleontologist-in-training.
This kid-friendly reference book includes dinosaurs of all kinds: big and small, scaled and feathered, meat-eating and plant-eating. Your kiddo will learn fun facts about each dinosaur and answer questions like, "How many plates do you see on the Stegosaurus?"
Personalized with your child's name, photo, and special dedication message, National Geographic Little Kids Book of Dinosaurs will become a favorite read. On the final pages, your child can mark the dinosaur qualities they like best, then draw themselves as a dinosaur!
Fancy Nancy, hostess extraordinaire, can't wait to share her party-planning expertise with your little one! From recipes and crafts to etiquette tips and French lessons, this precious personalized book contains everything your child needs to throw the perfect tea party. A personalized letter from Nancy herself to your fancy kiddo? Oui! Plus, your child's name is worked into the text and adorable illustrations throughout the book. Wrap up with a set of recipe cards from the Kitchen of Fancy Nancy, and best of all, cut out and frame the certificate declaring your child a graduate of Fancy Nancy's Tea Party Course! Que magnifique!
Arrr, matey! Pirate Pete is ready to search for buried treasure, and he wants YOU to come along! Set sail with the goofy, gold-loving captain in the personalized edition of Pirate Pete.
As the scallywag's first mate, your child tries to keep Pete on course to Mermaid Island, but it's not easy! The captain wants to check every island for treasure. There might be doubloons hidden among the tasty treats on Candy Island. Or perhaps you and Pirate Pete can persuade a leprechaun on Clover Island to give up a pot of gold!
Personalize this high seas adventure with your little buccaneer's name, photo, and dedication message. On the final pages, your child will find a personalized Pirate Pledge to cut out and display so that everyone will know they're a true swashbuckler!
Reach for the stars with the National Geographic Little Kids Book of Space! This personalized guide takes your child on a journey through our galaxy and beyond. Packed with fun facts and out-of-this-world illustrations, this book will spark your child's interest in the wonders of the universe.
As your kiddo flips through this book, they will encounter thoughtful questions addressed to them by name, such as "How many times have you been all the way around the sun?" On the final pages, your child can name their own comet and draw the night sky!
Personalized with your little one's name, photo, and special dedication message, this interactive book will show your junior space explorer that they live in a universe of infinite possibilities!
Just how big can YOUR kid dream? In My Name Is Not Alexander, your son becomes the star of an entertaining exploration through history while learning about the great men that helped shape America. This adventure will become a fast favorite! Kickstart your son's imagination and celebrate his opportunities ahead. Personalize the story with your child's name and create a special dedication page with a photo and message from you.
To help one family start their very own library,
Put Me In The Story
is hosting a HUGE
Summer Reading Giveaway
to one lucky winner!
Giveaway:
One lucky winner will receive: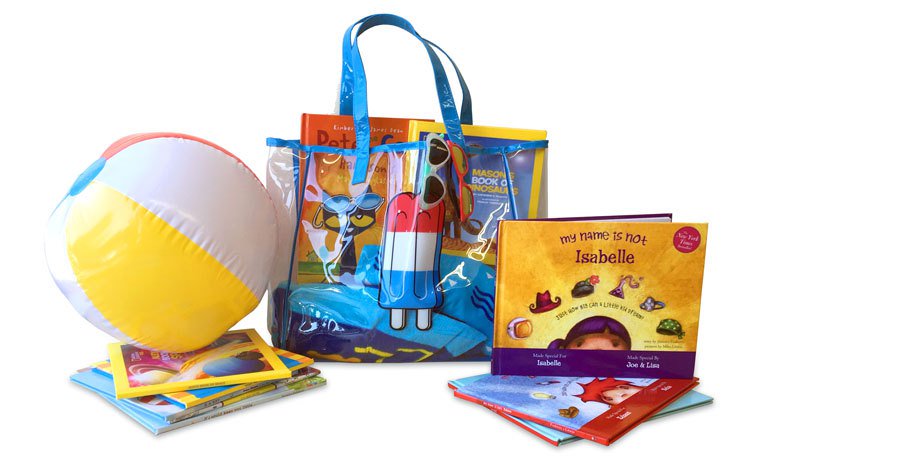 ·
10 personalized books from Put Me In The Story
·
2 children's beach towels
·
2 pairs of children's sunglasses
Enter now
through
July 5th, 2017
for a chance to win!