One of our favorite amusement parks, Sesame Place, announced today that the Sesame Place Cares team will partner with Variety--the Children's Charity--for the 30th consecutive year, in conjunction with National Autism Month.
Meet Julia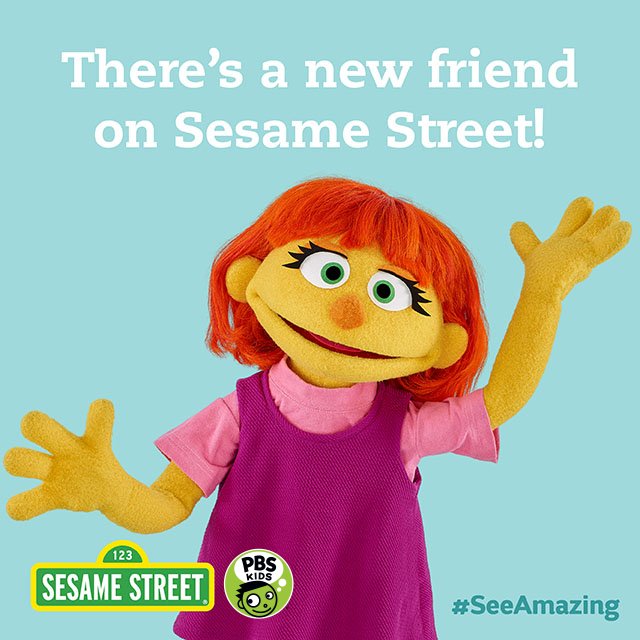 Photo info: © 2017 Sesame Workshop. All Rights Reserved.

You may have heard about Sesame Street's newest muppet character, Julia, a sweet and curious 4-year-old who has autism. She will be appearing at Sesame Place for the first time during Variety Day.


Photo info: © 2017 Sesame Workshop. All Rights Reserved. Photo Credit: Zach Hyman
We think it is absolutely wonderful that there is a new character on Sesame Street who will help children learn to relate and interact with other children who have autism!
Other
Sesame Street and Autism: See Amazing in All Children
resources include digital videos, books, and e-books, available in both English and Spanish. For more information, please visit
sesamestreet.org/autism
.
Photo info: © 2017 Sesame Workshop. All Rights Reserved. Photo Credit: Zach Hyman
Variety Day at Sesame Place
On Saturday, April 22 from 11AM – 5PM, children with disabilities and their families will have the opportunity to experience an exclusive day at the park filled with one-of–a-kind furry fun.
For Variety Day, Sesame Place officials will make special accommodations for children with autism, including designated quiet areas, low sensory shows and volume adjustments throughout the park to ensure every child has an unforgettable and enjoyable experience. The park will also host a resource fair, where families can learn and connect with others at their leisure.
Walkaround Julia will also be available for meet & greets. Variety Day provides an opportunity for guests to have a better understanding about autism and for children with autism to see themselves reflected in a positive way.
"We are honored to welcome Sesame Street's newest friend, Julia, to our Variety Day this year," said Bob Caruso, Sesame Place, Park President. "We admire Sesame Workshop's dedication to spreading awareness about autism, and we're excited to be a part of the initiative."
More Info:
Sesame Place Cares
is a collection of programs and initiatives at the park and in the community that conveys the park's commitment to conservation, education and community service. The partnership with Variety began in 1988 and has expanded to include multiple
Variety Days
throughout the year dedicated to creating a special day for participating children and their families.
Over the past 30 years, more than 200,000 children with disabilities have had the opportunity to experience a fun-filled day with their furry friends that they will always remember. Isn't that amazing?
For complimentary admission, Variety Club members should contact Variety at VarietyPhila.org or (215) 735-0803.
Parking will be $25 per vehicle and a portion of the proceeds will go to Variety - the Children's Charity.
Photo info: © 2017 Sesame Workshop. All Rights Reserved. Photo Credit: Zach Hyman
No compensation was received for this post. All information provided by Sesame Place and used with permission.