I received a copy of Middle School: The Worst Years of My Life on blu-ray for review. All opinions are mine. This post contains affiliate links.
Ah, middle school. It's a difficult age of awkwardness, dealing with a lot of changes with friends, "clicks" and your body (can anyone say hormones?), all while balancing school and the challenges of becoming more independent. It isn't easy and I can't say that I would ever want to go back to that stage in my life again.
This movie is pretty hilarious and may have you guffawing or snorting at times! Rafe is a kid who is acting out and has issues with "rules" and teachers/principals who seem to be more focused on the all important rules and standardized tests than the actual students. (Haven't we all bucked against being told what to do?) He decides he's going to "get back" at the principal and break all of the rules and destroy the principal's precious B.L.A.A.A.R test.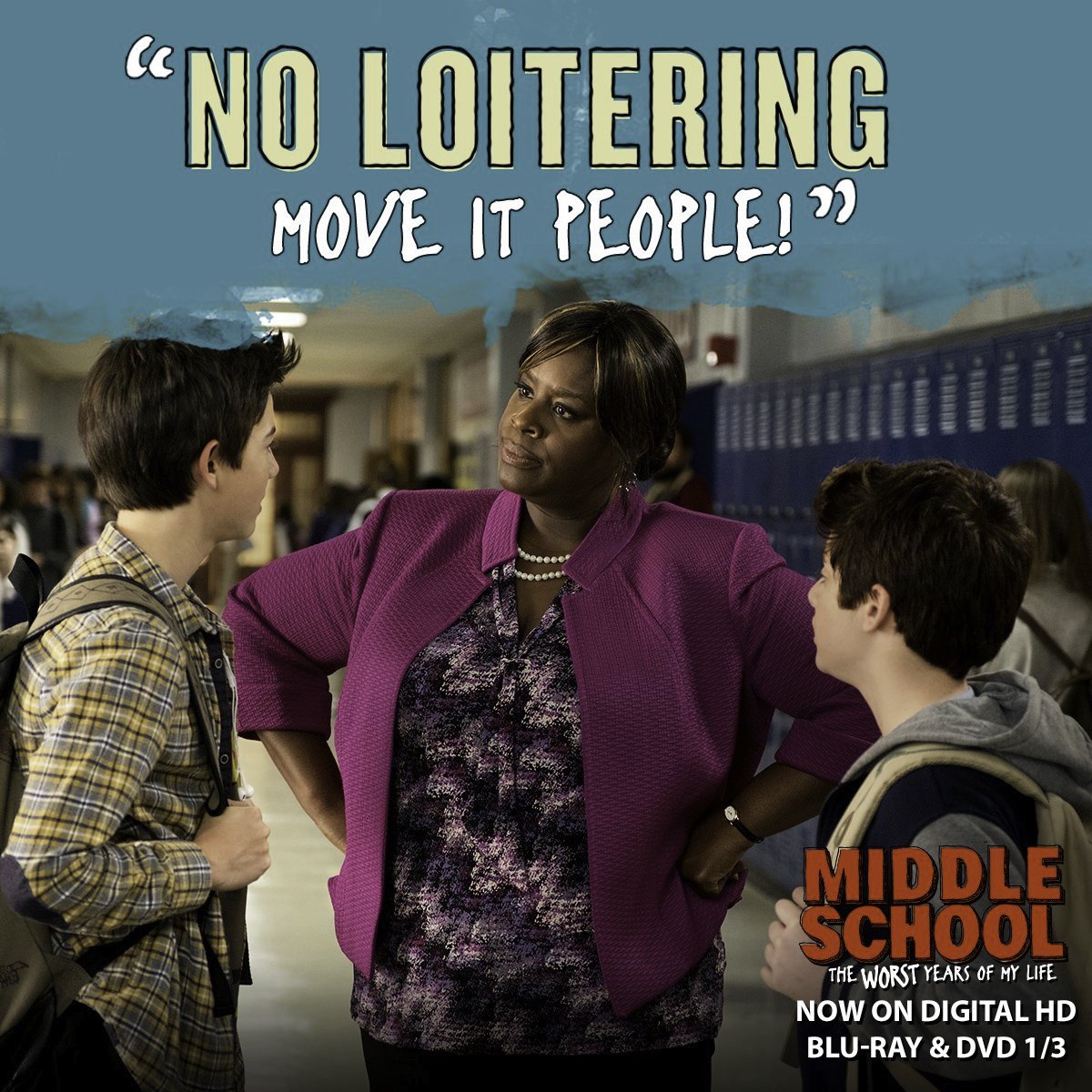 As a former teacher and substitute teacher who has dealt a bit with middle schoolers, I get it. There is a fine balance between enforcing the rules and understanding that sometimes we have to give some grace and understanding so we don't crush our students' spirits. The principal in this movie made me angry and I can't blame Rafe for being angry either.
And honestly, I feel sometimes that teaching to tests merely allows students to learn useless memorization to spit out at one moment, not really longer lasting learning. But tests are there and they do need to be taken as a measurement of learning; again, there needs to be a balance. It's a shame that some teachers and administrators feel the pressure of teaching to the tests because their job depends on good test scores.
Some of the things that happen in the movie are a bit over the top in their humor (there's a test question that mentions the Principal being born without nipples), but your tweens will find pretty funny and you probably can't help but laugh. And I absolutely love Lauren Graham in yet another motherly role (though not quite as wise as Lorelai in Gilmore Girls)!
But there is more than what appears on the surface of this movie. There are some serious moments and topics. I don't want to spoil the surprise for you, but Rafe is dealing with a lot more than just standardized testing and mean administrative staff at school. Once you realize that, you realize there are more reasons behind his actions and you will really feel for him and his family.
This is a PG family-friendly film for your younger tweens and teens especially will identify with. I haven't read the book to know if the movie sticks closely to the book, but seeing this movie definitely made me want to check out the book too.
The New York Times best-selling series by James Patterson breaks all the rules when Middle School: The Worst Years of My Life arrives on Digital HD December 20 and Blu-ray (plus Digital HD), DVD, and On Demand January 3 from Lionsgate and CBS Films.
This hilarious, family-friendly leap from the page to the big screen stars Griffin Gluck (Batman vs. Robin) alongside Lauren Graham (TV's "Gilmore Girls"), Rob Riggle (The Hangover), Thomas Barbusca (TV's "Wet Hot American Summer: First Day of Camp"), Andy Daly (Semi-Pro), Adam Pally (Dirty Grandpa), Isabela Moner (TV's "100 Things to Do Before High School"), Isabella Amara (The Boss) and Alexa Nisenson (TV's "Constantine".)
Rafe has an epic imagination…and a slight problem with authority. Both collide when he transfers to a rule-crazy middle school. Drowning in do's and don'ts, Rafe and his best friend Leo hatch a plan to expose the principal by breaking every rule in the school's Code of Conduct. As the principal strikes back, Rafe's world, at home and at school, explodes into hilarious chaos (both real and imagined) in this laugh-filled family comedy based on James Patterson's best-selling book series.
Griffin Gluck ("Rafe") stars in Lionsgate Home Entertainment's MIDDLE SCHOOL: THE WORST YEARS OF MY LIFE.
The Middle School: The Worst Years of My Life home entertainment release special features include four behind-the-scenes featurettes, a hilarious gag reel plus four deleted scenes, including one hilarious animated sequence.
Middle School: The Worst Years of My Life
is directed by Steve Carr with screenplay by Chris Bowman & Hubbel Palmer and Kara Holden. Executive produced by James Patterson and Steve Bowen. Produced by Leopoldo Gout and Bill Robinson.
BLU-RAY/DVD/DIGITAL HD SPECIAL FEATURES
·
"That Middle School Life" Featurette
·
"Middle School = The Worst / Making Movies = The Best" Featurette
·
"The Wedgie Wheel" Featurette
·
"Yolo: Behind Operation Rafe" Featurette
I
received a copy of Middle School: The Worst Years of My Life on blu-ray for review. All information provided by Click Communications.
Follow Middle School: The Worst Years of My Life
#MiddleSchoolMovie