Thank you to
Edify Media for giving me a review copy of When Calls the Heart: Forever In My Heart
. This post contains affiliate links.
Missing your favorite Hallmark show When Calls the Heart? The fourth DVD for season 3, When Calls The Heart: Forever in My Heart, is now available to binge watch!
(Haven't watched the first two seasons? You can check out episodes from Season 1 and Season 2)
In case you need to catch up on Season 3, here are the DVD's in order:
When Calls The Heart: It Begins With Heart
When Calls The Heart: Troubled Hearts
When Calls The Heart: Heart of a Hero
When Calls The Heart: Forever in My Heart

When Calls The Heart: Hearts in Question
Synopsis:
When Cody's sister, Becky, returns to Hope Valley, she's in a wheelchair due to her illness. Suspecting that Becky isn't walking because she's receiving a lot of attention, Elizabeth encourages her to try harder, both in her efforts to stand and in honing her talent for drawing. All are surprised to meet Carolyn Connors, Cody and Becky's long-lost, wealthy aunt who wishes to raise them on her own… away from Hope Valley. Meanwhile, Rebecca's efforts to land a role in a film may catapult her to stardom… and out of the arms of Lee.
One of the things I like about this show is that are all kinds of little twists and turns in each of the characters' lives. Each episode reveals a little bit more about the people in Hope Valley; sometimes for the better and sometimes for the worst.
Just when you think things are settling down for Abigail and the two kids she wants to adopt, along comes an aunt to throw a wrench in the plans. Abigail has really become attached to the kids and your heart really goes out to her during this stressful time.
And as far as couples getting together and getting married, well the writers want to keep you on your toes and make you wonder if and when that'll happen. Jack & Elizabeth are still on the back burner, though Jack is looking at land to purchase. Rosemary & Lee look like they are heading down the aisle, but a potential movie role could change things.
Melodramatic Rosemary is one of those characters you don't like at first, but she is starting to grow on me. She makes me laugh at her manipulative ways and theatrics! Lee sure has his hands full with her, but for some reason they work as a couple.
I'm enjoying re-watching season 3 and can't wait for season 4!
If you're a fan of the series, follow #hearties on twitter for all the latest buzz

.
Where to Buy: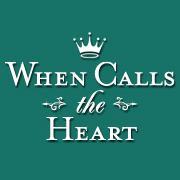 Follow When Calls The Heart #Hearties