Thank you to
Edify Media for giving me a review copy of When Calls the Heart: Troubled Hearts. This post contains affiliate links.
Hearties fans, are you suffering from When Calls The Heart withdrawal? Season 3 is now over, but you can watch your favorite episodes over again on DVD!
(Haven't watched the first two seasons? You can check out episodes from Season 1 and Season 2)
In case you need to catch up on Season 3, here are the DVD's in order:
When Calls The Heart: It Begins With Heart
When Calls The Heart: Troubled Hearts
When Calls The Heart: Heart of a Hero
When Calls The Heart: Forever in My Heart

When Calls The Heart: Hearts in Question
The second DVD for season 3, When Calls The Heart: Troubled Hearts, is now available to binge watch!
Synopsis:
From celebrated author Janette Oke (The Love Comes Softly series) comes a rigorous and romantic adventure as epic as the wide frontier. Erin Krakow (Army Wives), Daniel Lissing (Eye Candy), Jack Wagner (Melrose Place) and Lori Loughlin (Full House, 90210) star in When Calls The Heart, "a beautiful story with roots in relationships, self-empowerment, and the enduring power of love" (Common Sense Media).
Big revelations are in store for Hope Valley as Elizabeth moves into her own row house, dismaying Jack, who has been planning to build a new home for the both of them. Rosemary discovers that Lee has taken out a loan and worries that he is in financial difficulties. And Jesse, the young drifter who works in Abigail's kitchen, has information that could ruin Pastor Frank's good standing in Hope Valley, and begins his plan to extort the pastor with an old "Wanted" poster…
The title Troubled Hearts certainly sums up all of the plot lines happening in Hope Valley during this

episode.
Trouble is coming for Pastor Frank, as his past is catching up with him in a serious way. Rosemarie and Lee are having some issues at the mill. Abigail has her hands full with Cody and Pastor Frank. And Elizabeth has a big surprise for Jack which isn't quite what he was expecting. (Will Jack

ever propose to Elizabeth??)
There's a lot to follow, but the action will keep you wondering what will happen next! It reminded me of some of the old "wild west"

plot lines but without the violence.
If you're a fan of the series, follow #hearties on twitter for all the latest buzz

.
Where to Buy: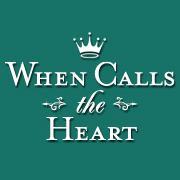 Follow When Calls The Heart #Hearties