Thank you to
Edify Media for giving me a review copy of When Calls the Heart: Heart and Home. This post contains affiliate links.
I am a huge fan of the series When Calls the Heart and love being part of a group called #Hearties. It's a wonderful family-friendly show from executive producer Michael Landon Jr that keeps getting better and better!
In case you need to catch up on Season 2, here are the DVD's in order:
When Calls the Heart: Trials of the Heart
When Calls the Heart: Heart & Soul
When Calls the Heart: Heart of the Family
When Calls the Heart: Heart and Home
When Calls the Heart: Follow Your Heart
When Calls the Heart: Heart and Home is now available on DVD.
Synopsis:
From celebrated author Janette Oke (The Love Comes Softly series) comes a rigorous and romantic adventure as epic as the wide frontier. Erin Krakow (Army Wives), Daniel Lissing (Eye Candy), Jack Wagner (Melrose Place) and Lori Loughlin (Full House, 90210) star in When Calls The Heart, "a beautiful story with roots in relationships, self-empowerment, and the enduring power of love" (Common Sense Media).
Jack and Elizabeth leave Hope Valley and rush back to the city of Hamilton when they learn that Jack's brother, Tom, was involved in an automobile accident… with Elizabeth's sister, Julie! But Tom and Julie are hiding something about the incident, a deceit that puts Jack and Elizabeth at odds with their families… and with each other. Their trip is further complicated when Tom and Julie endeavour to run off together – via train this time – and Elizabeth's father offers Jack a job – an offer that puts Jack and Elizabeth's fledgling romance in peril yet again.
I'm enjoying the plot twists and turns in season 2! The classic "love triangle" of Jack, Elizabeth, and Charles keeps you wondering who Elizabeth is going to choose. Personally, I'm rooting for Jack!
And things within Elizabeth's family are getting more complicated when her sister Julie becomes even more interested in Jack's "troublemaker" brother Tom.
It's fun to see the contract between more simple Hope Valley and the bustling city of Hamilton back then. Elizabeth keeps being drawn back home but feels conflicted.
Things just keep getting more interesting in the city!
If you're a fan of the series, follow #hearties on twitter for all the latest buzz

.
And stay tuned for the "When Calls the Heart" holiday special

December 26th

at

8/7c

on the Hallmark Channel!
Where to Buy: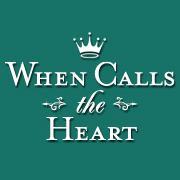 Follow When Calls The Heart #Hearties