I participated in a Blog Blast Activation on behalf of Influence Central for
Good Humor
. I received a promotional item to thank me for my participation.
Nothing says summer like some Good Humor! When I was growing up, I looked forward to hearing the ice cream truck's music coming down the street. I used to chase after that truck more times than I can count. And often my favorite ice cream of choice was a Good Humor Strawberry Shortcake bar. My mouth is watering about it just typing it! It was a summer tradition that I've passed along to my kids. (luckily our neighborhood has an ice cream truck to chase after)
You'll be happy to know that Good Humor is on a mission this summer to bring some joy to your neighborhood in its "Welcome to Joyhood" campaign across the East coast.
After stopping off in New York City and Philadelphia, this iconic brand is continuing its tour and traveling to Washington, D.C.
August 4 to August 22.
The
Good Humor® Joy Squad will be surprising and delighting folks with frozen treats and other unexpected goodies in neighborhoods, events, local retailers and businesses, and some surprise places too!
Good Humor Welcome to Joyhood When & Where
And to add to the fun, they've teamed up with the Washington Nationals mascots! On
August 11, they'll be stopping by Metro Center from 12 – 12:30 p.m. and Dupont Circle from 12:45 – 1:15 p.m. to offer frozen treats, photo opps and other surprises!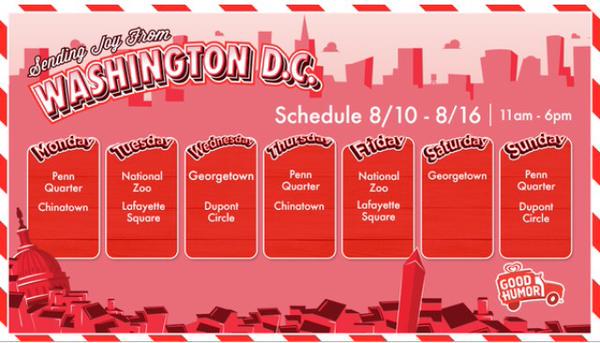 Be sure to follow along on Twitter @GoodHumor
to find out where they will be headed next! (Don't forget to give them a shout out at #JoyHoodDC)
What's your favorite Good Humor summer treat?