Thank you to Edify Media for giving me a review copy of When Calls the Heart: Change of Heart. This post contains affiliate links.
Are you a fan of the series on the Hallmark Channel called When Calls the Heart?
In case you need to catch up, here are episodes so far:
When Calls the Heart (debut movie)
When Calls the Heart: Lost & Found
When Calls the Heart: A Telling Silence
When Calls the Heart: The Dance
When Calls the Heart: Second Chances
When Calls the Heart: Change of Heart
When Calls the Heart: Rules of Engagement
Synopsis:
Jack finally gets Elizabeth to agree to join him for a dinner date just as Elizabeth's younger sister, JULIE THATCHER, arrives in Coal Valley, surprising Elizabeth. Julie is accompanied by Mountie PATRICK O'REILLY, the man who has been sent to inform Jack of his new posting, and become the new Constable of Coal Valley. Jack had already forgotten that he sent in a request to transfer the week he arrived in Coal Valley, and the news takes him by surprise.
The When Calls the Heart television series debuted on the Hallmark Channel to more than 3 million viewers, making it the No. 2 for the night on all of cable for the primary telecast at 9 p.m and No. 3 overall in households. Distributed by Word Entertainment, previous DVD's are available to purchase in Christian Retail.
In Change of Heart released Oct. 14th, we get to know more about Elizabeth's younger sister Julie who comes for a visit. She is a bit of a "city" girl and optimistic to the point of being somewhat naive. There are some interesting things that happen while Julie is there (including a handsome but dangerous stranger) which makes for a great side plot. Jack & Elizabeth's relationship is a bit tested as he realizes he sent for a transfer and may be leaving Coal Valley. I won't spoil it for you, but it definitely keeps you wondering what will happen!
The story line is compelling and the plot has a great pace
.
And yes, it is more of a "chick flick" type series, but one that you don't have to worry about content around your kids with good "old fashioned" values. There's action, some clean romance, and great life lessons about faith, truthfulness, friendship, and family.
And did you hear? They renewed the series for a second season. If you're a fan, follow #hearties on twitter for all the latest buzz!
Where to Buy: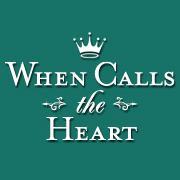 Follow When Calls The Heart #Hearties