When Calls the Heart debuted on the Hallmark Channel to more than 3.2 million viewers, making it the No. 1 movie of the week on ad-supported cable. Distributed by Word Entertainment, The DVD will be available to purchase in Christian Retail November 19th, 2013.
Thank you to Edify Media for giving me a copy of When Calls the Heart to review. All opinions are my own.
Synopsis
Nashville , Tennessee- When Calls the Heart, directed by Michael Landon Jr. and based on the best-selling books by Janette Oke, tells the story of a young high society teacher receiving her first classroom post in a prairie town in the Western Frontier. Determined to prove to her family that she is brave enough to live on her own, Elizabeth (Poppy Drayton) struggles with her own fears and doubts until she discovers her late Aunt's diary. Her aunt (Maggie Grace), also named Elizabeth, had set off on a similar adventure as a teacher into the frontier, where she struggled with prairie life and eventually met and fell in love with a Royal Canadian Mountie (Stephen Amell). Reading her aunt's words, the young Elizabeth decides to put her future in God's hands and embark on her own adventure where she uses the diary as her guide as well as Edward, another Mountie (Daniel Sharman), sworn to see her arrive.
Michael Landon Jr. – Director: Michael Landon Jr., son of the late television legend Michael Landon, has been in the film business for over 25 years. With two of the highest rated films in the history of the Hallmark channel, and several top ten releases targeted to the Christian market, Michael has become known for creating heartfelt, inspiring films that connect to the family. He has developed and/or produced, directed, and written screenplays for Fox, CBS, NBC, Disney, Sony, Lifetime, and others.


Movie Preview:


My Thoughts:
I saw this movie when it debuted on the Hallmark channel and was immediately drawn to the story line (since I am a former teacher). There are two stories going on at the same time; one about Elizabeth and her aunt of the same name. Elizabeth is affluent, a bit pampered, and even her sister doesn't think she has what it takes to become a teacher out on the frontier. When she finds her aunt's diary and reads about her namesake's adventures in teaching years ago, Elizabeth begins to waver about whether or not she can handle such a difficult task.
I loved that the two stories, though separate, mirrored each other and I didn't want the movie to end. Like all of Janette Oke's stories, there is adventure and good old fashioned family values mixed with a little romance. Not to mention gorgeous costumes & a wonderful cast, including Lori Loughlin (remember Full House?), Maggie
Grace (any fans of the Twilight Series?) and Jean Smart (I loved Samantha Who?).
I'm excited that this will be one of the first television series in 2014 to be inspired by a Christian author! I only wish I didn't have to wait to find out what happens next in Elizabeth's journey.
When Calls the Heart will definitely appeal to fans of the Love Comes Softly Series and make a great gift for the holidays!
Check out all the other WCTH in the series:
Season 1:
When Calls the Heart (debut movie)
When Calls the Heart: Lost & Found
When Calls the Heart: A Telling Silence
When Calls the Heart: The Dance
When Calls the Heart: Second Chances
When Calls the Heart: Change of Heart
Season 3:
Season 5 DVD Set


Where to Buy: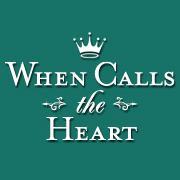 Follow When Calls The Heart #Hearties
For more holiday gift
ideas, be sure to check out the 2013 Holiday Gift Guide!