Thank you to
Edify Media for giving me a review copy of When Calls the Heart: Trials of the Heart. All opinions are my own.
Are you a fan of the series on the Hallmark Channel called When Calls the Heart?
I am a HUGE #Heartie and am so excited that Season 2 is coming to DVD!
In case you need to catch up on Season 2, here are the DVD's in order:
When Calls the Heart: Trials of the Heart
When Calls the Heart: Heart & Soul
When Calls the Heart: Heart of the Family
When Calls the Heart: Heart and Home
When Calls the Heart: Follow Your Heart
When Calls the Heart: Heart of the Family is now available with exclusive behind the scenes interviews and continues season 2.
Synopsis:
Elizabeth returns to Hope Valley and immediately volunteers to look after a neighbor's rural homestead… and his two children, an undertaking which proves to be a bigger chore than she'd imagined. But when Jack lends a hand, and they wind up chatting by the fire, all seems right in Hope Valley and the world.
Meanwhile, in Hamilton, Bill Avery sets about busting a counterfeiting ring wide open, an endeavor which surprisingly leads him to Hope Valley, where he mysteriously declines Jack's help. But Bill isn't the only big-town visitor: Elizabeth is even more surprised to see her former suitor, Charles Kensington, standing right in the middle of her schoolhouse!
In Heart of the Family, Elizabeth returns home now that her mother is well. Coal Valley has now been re-named Hope Valley. I guess it wasn't unusual in that time period for towns to pick new names.
But it seems fitting as "hope" is a big theme so far this season. Jack is hoping to impress Elizabeth with the new schoolhouse. Charles Kensington is hoping to win Eli

zabeth's heart.

Elizabeth is hoping for Jack to be more open with her. And Bill Avery is hopeful to explain to Abigail his

marital situation.
There is a lot going on in Hope Valley including counterfittin

g and underhandedness. You'll have to keep watching to figure it all out.
I'm enjoying the interesting plot lines,

though at times it can be a little bit predictable.
If you're a fan of the series, follow #hearties on twitter for all the latest buzz!
Where to Buy:
In stores and is on sale at FamilyChristian.com for $1

4

.99.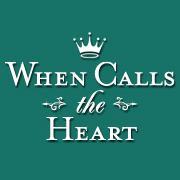 Follow When Calls The Heart #Hearties